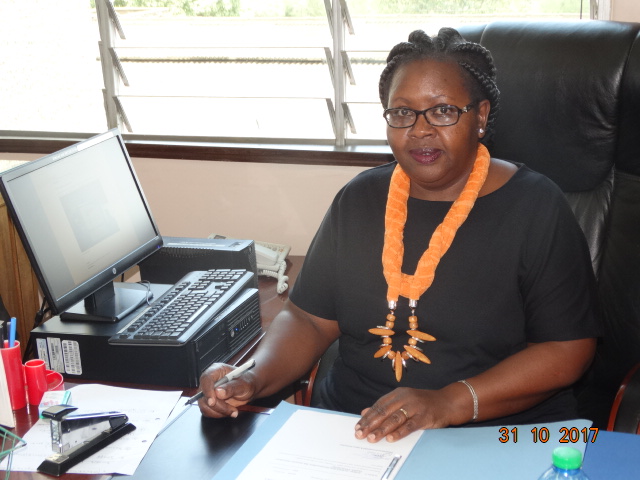 Prof Faith N Karanja, Chair, Department of Geospatial & Space Technology
The Department of Geospatial and Space Technology is one of the five Departments in the Faculty of Engineering and located in the Main Campus along Harry Thuku Road. It is on the third floor of the American Wing building.
The Department of Geospatial and Space Technology offers a Bachelors Degree program in Geospatial Engineering, two Masters Degree programs namely Master of Science in Geographical Information Systems and Master of Science in Surveying, currently under review.The Department is also offering PhD programs in the various fields of geospatial engineering.
The undergraduate program is a 5-year professional degree program and covers all aspects of the geospatial field including Surveying, Geodesy, Hydrographic Mapping, Satellite Positioning, Remote Sensing, Photogrammetry, Geographic Information Systems, Cartography, Cadastral Surveying and Land Management. Several other service courses are offered to our students from other Departments including Civil Engineering, Electrical Engineering, Mathematics, Statistics, Physics, Informatics, Geophysics, Real Estates and Land Law.
Various research activities are carried out in the Department. These include deformation and monitoring of structures, land information management, application of geospatial technology in natural resource management, disaster management, facility management, climate change, food security, water resource management, and education among many others. The Department has also directly contributing to national needs by carrying out research related to land issues such as the determination of minimum and maximum land parcel size holding in our country, upgrading of informal sectors and modernization of the existing national geodetic network among others. The members of staff have also participated and contributed in the development of the National Land Policy and the land related laws of this country as well as setting up of the Kenyan Space Agency.
There are a total of thirty six lecturers in the department comprising of twelve permanent members of teaching staff (core), consisting of three professors, three senior lecturers, five lecturers and four tutorial fellows; seventeen service lecturers (from different departments in UoN), and seven part-time lecturers.  There are also eight laboratory and field technologists and two administrative staff and one driver. The student population has grown over the years and our current annual intake is about fifty making a total of about two hundred and fifty undergraduate students. There are about forty students in the masters programs and eight currently taking their PhD studies.
The Department has established international links for research and training for instance with the Department of Geography at the University of Helsinki through the (Climate Change Impacts on Ecosystems Services) CHIESA project with two PhD students registered in the department benefiting from this partnership. The University of Leicester through Researcher Bilateral Workshop Grant from the Newton-Utafiti Fund on Strengthening Food Security through Integrated Earth Observations & Ecological Assessments of Ecosystem Services in Kenya targeting Early Career Researchers drawn from Kenya and the United Kingdom.
Our BSc. degree program is fully recognized by the Institution of Surveyors of Kenya and the Land Surveyors Board of Kenya. Some academic staff members play a major role in these institutions.
Chair,
(September, 2017- Present)
Department of Geospatial and Space Technology